Marketing Services
Tariff for Participation
Rs 4200/- per sq. mt. inclusive of 12.36% service tax
Stalls are of dimension 6 sq. mts (3 sq. mt. X 2 sq. mt.) and multiples thereof.
A few 5 sq. mts stalls are also available.
Corner stalls would be levied with a 20% surcharge
Stall Allocations in the Following Groups:
Hall A (Ground Floor of Ambur Trade Centre) – Footwear Components & Accessories
Hall B (Ground Floor extension)
Hall C (First Floor of Ambur Trade Centre, inside the Convention Centre) – Finished Leathers
Hangar (exclusively for heavy machineries only)
PS: Stall allotment will be made on 'first come first serve' basis.
Payment Terms
Demand Draft favouring "Indian Shoe Federation" for the full amount (inclusive of 12.36% service tax) to be paid along with completed application and catalogue entry details by 15th May 2015.
Advertisements/ Sponsorship
We welcome advertisements and sponsorships for various publicity materials as well as for the various events during Ambur Open 6.
Advertisements in Fair Catalogue
Back Cover: Rs 15,000/-
Inside cover (front): Rs 10,000/-
Inside cover (back): Rs 10,000/-
Full page inside: Rs 5000/-
Book mark: Rs 10,000/-
PS: All advertisements are in colour and the size is available on request
Advertisements on Name Badges
Rs 10,000/- each (Four advertisement slots available)
Lunch Sponsor
We welcome lunch sponsors, Rs. 0.50 lakh (Joint sponsorship with three or more companies) for each Lunch. Lunch coupons will carry the name and logo of the sponsor besides the stand alone advertisement in the lunch area.
Newsletter Sponsor
A 8 pages newsletter will be brought out on the occasion. The sponsorship is Rs 1.0 lakh. Last page will be given free of charge besides a one page write-up on the sponsor.
Facilities at the Stand
One table, two chairs, fascia with participant's name, with shelves/ hangers, spot lights. Please visit www.indianshoefederation.in to select the modular systems and the list of furniture available during May 2015 online
LIST OF FURNITURE ITEMS PROVIDED WITH THE STALL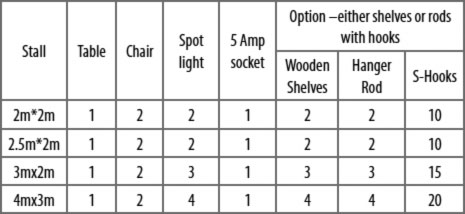 Food Court
A Food Court and cafeteria will be fully functional at the Ambur Trade Centre